I love this time of the year where family traditions are made. One of ours is enjoying holiday lights. Bundle up your family, get out of the house and experience holiday lighting displays in North Texas!
GRAND PRAIRIE Area:
 With four million lights and two miles of lights and ending in the world's longest light tunnel, the
Prairie Lights Powered by Gexa Energy
in Grand Prairie is not just a holiday light display, but a holiday light experience. For the second year, Gexa Energy is the title sponsor and is powering the spectacular drive-through display and Holiday Village attractions.
ALLEN: Watters Creek invites our shoppers to celebrate the most magical time of the year with "Celebration of Lights", a fantasyland of animated light displays scheduled on the half hour from 5:30PM to 9:30PM. Throughout the holiday season the tranquil setting throughout the center will be, with the flip of a switch, transformed into a brilliant dazzling display with over 145,000 lights synchronized to music.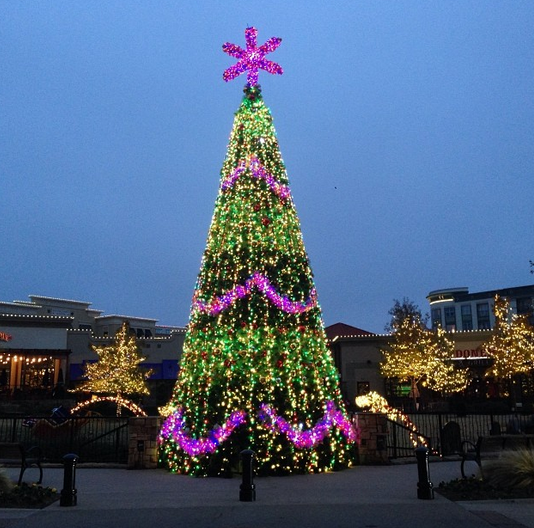 ADDISON Area: Elysa Ellis recommends you visit Vitruvian Park for "Vitruvian Lights" through Wednesday, January 1, 2014. Millions of Sparkling LED Lights will brighten the park, transforming it into MAGICAL HOLIDAY WONDERLAND!
ARLINGTON Area: The neighborhood of Interlochen at Randol Mill Road & Westwood Drive is a MUST SEE until December 31, 2011. One of the largest holiday light displays in North Texas comes to life with more than 200 homes!
CARROLLTON Area: We make a special trip to see this one every year! (Hebron Parkway & High Sierra Dr.) This house brings to life Santa's Workshop.  You know you are at the right house if Snoopy's on the roof. A visit to DFW would not be complete without a glimpse at this spectacle for yourself.
SOUTH DALLAS Area: Kristen Martin also known as CandidlyRed recommends Kessler Park (W. Colorado and Lausanne). This is a wonderful neighborhood to view holiday lights. If you are in the area, you should stop by Emporium Pies for a sweet treat.
FARMER'S BRANCH Area: The Pharr Family house (14535 Southern Pines Cove) is highly recommended until January 1, 2013.  One of the most popular houses to visit in the DFW area is the Pharr family house who choreographs their 275,000 Holiday Lights to various holiday music. (Tune your radio to 95.9 to hear the music).  It's definitely worth a visit.
FRISCO Area: The Frisco Town Square at Coleman Ave & Frisco Square Blvd  has a dazzling, choreographed holiday lights and music show until January 6, 2013. They also have carriage rides, a parachuting Santa and a Gigantic 3-Lane Snow Slide.
HIGHLAND PARK Area: A fan favorite is always the Highland Park area starting at Armstrong Pkwy & Preston Rd.  These exquisite holiday displays will delight both the young and old in this drive by tour of lights and displays.  If you feel adventurous, you can even tour the homes by carriage.
MCKINNEY area: This year marks the 5th year for the show that the Ahnemann family (7805 White Stallion Trail) calls "McKinney Christmas." The show features 70,000 lights all synchronized to music, 7 different songs, snow machines, a 25-foot Christmas tree, a 10-foot Christmas tree, an 8-foot star, and leaping arches of light.
PLANO Area: I never turn down an opportunity to view the beautiful houses of the Deerfield Neighborhood at Legacy Drive & Preston Meadow until December 31, 2012. Grab a cup of hot cocoa or a gingerbread latte and take a drive through this festively illuminated neighborhood.